Maak je eigen vlag met onze gratis vlaggengenerator
Maak je eigen aangepaste vlaggen met onze vlaggenbouwer. De generator voor het maken van vlaggen, ontwerpen bij wereldbeschouwing, en alle fans van vexillologie.
Klik op het plaatje en probeer Flag Creator: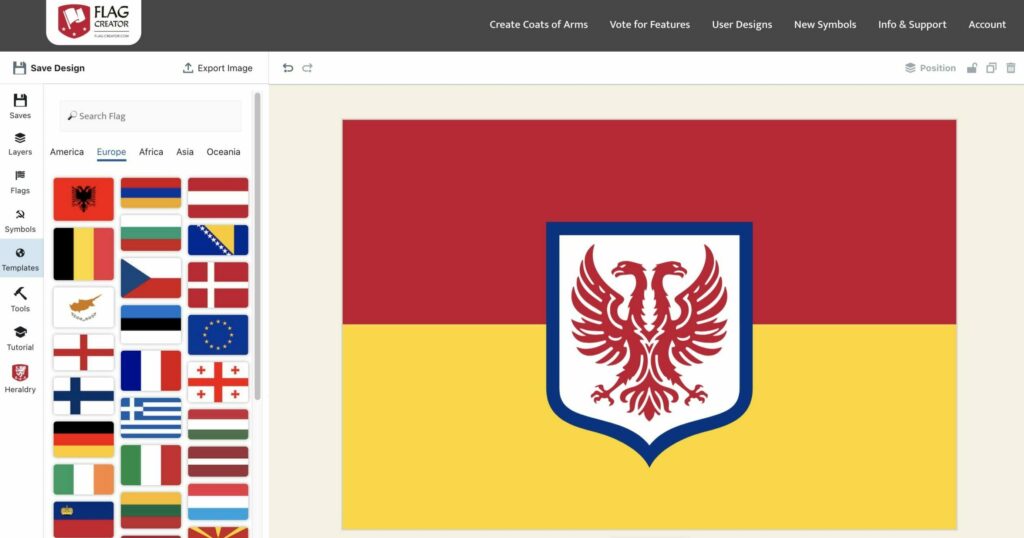 Honderden gratis sjablonen voor vlaggen
Onze vlaggenmaker heeft honderden sjablonen voor vlaggen en symbolen. Je kunt door de bibliotheek van onze vlaggenmaker app bladeren of naar voorwerpen zoeken. Je kunt alle elementen kleuren en combineren. Onze vlaggen generator maakt het heel gemakkelijk om je vlaggen te maken.
Maak je eigen aangepaste vlaggen
Je hebt honderden elementen in onze vlaggenmaker. Je kunt alle elementen verplaatsen, kleuren en roteren. We integreren meer elementen en functies, zodat je elke vlag kunt maken en aanpassen.
Moderne, historische, en alternatieve vlaggen
Je kunt elke vlag ontwerpen met Flag Creator. Maak een vlag voor je echte land of voor je fan-fictie. Genereer vlaggen voor worldbuilding of videospelletjes. Je kunt onze vlaggenmaker gebruiken voor alle vexillologie projecten. De mogelijkheden zijn eindeloos.
Genereer vlag voor wereldbouw of alternatieve geschiedenis
Maak je vlagontwerpen met onze gratis fantasie vlaggen generator. Gebruik je generator voor je rollenspellen, worldbuilding, en alternatieve geschiedenis projecten.
Prijzen en kosten voor het maken van vlaggen
Met onze vlaggenbouwer kun je gratis vlaggen maken. Als je meer functies wilt gebruiken, hebben we de PRO versie als alternatief voor de gratis versie. Met de PRO versie kun je meer elementen gebruiken, je kunt teksten toevoegen, elementen uploaden, en meer sjablonen gebruiken. Je kunt je wapenschild zelfs op je computer opslaan voor latere revisies.